VLSM Subnetting
You are a network engineer responsible for creating the following network and testing it in your lab before your company implements it. There are four routers connected to each other via point-to-point serial links. Each router has a LAN attached to it with the specified number of hosts.
Don't use plagiarized sources. Get Your Custom Essay on
(Solved Homework): VLSM Subnetting…
Get an essay WRITTEN FOR YOU, Plagiarism free, and by an EXPERT!
Use the Class C address of 192.168.241.0 and subnet it (using VLSM) in order to successfully implement the network requirements for the four sites
Network Plan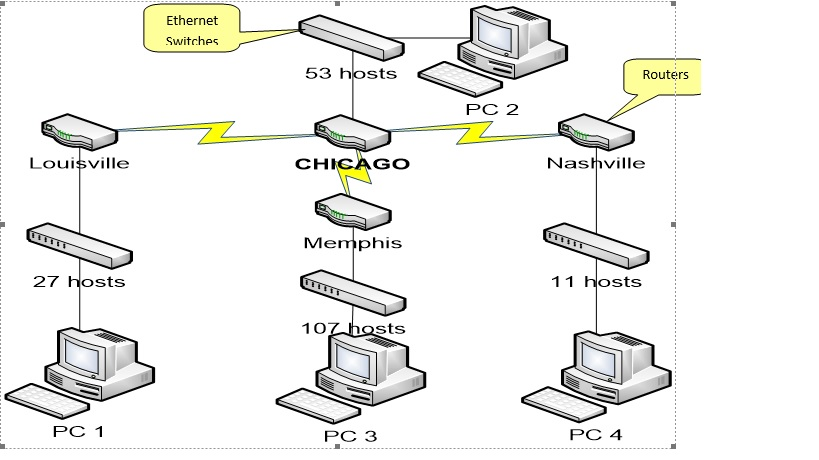 192.168.241.
Subnet Address
CIDR

MASK

First Host
Last Host
Broadcast
# Hosts Needed
Location
192.168.241.
Chi – Nsh P to P
192.168.241.
Chi – Lvl P to P
192.168.241.
Chi – Mph P to P
192.168.241.
Mph Internal LAN
192.168.241.
Chi Internal LAN
192.168.241.
Nsh Internal LAN
192.168.241.
Lvl internal LAN
Device IP Assignment
Location
Interface/Device
IP
Mask
Chicago
S1/0 –Lvl
Chicago
S1/1 – Mph
Chicago
S1/2 – Nsh
Chicago
Fa0
Chicago
PC2
Memphis
S0-Chi
Memphis
Fa0
Memphis
PC3
Louisville
S0-Chi
Louisville
Fa0
Louisville
PC1
Nashville
S0-Chi
Nashville
Fa0
Nashville
PC4
Ethernet Switcheg 53 hosts Routers PC 2 Louissville CHICAGO Nashville Memphis 27 hosts 11 hosts sts PC 1 PC 3 PC 4