PLEASE ANSWER ALL THE QUESTIONS (From number 5 to 10)
Assignment: DB Fundamentals SQL (100 points)
Don't use plagiarized sources. Get Your Custom Essay on
(Solved Homework): COUNTRY COUNTRY ID COUNTRY_NAME COUNTRY POPULATION SALES OUTLET SALES_OUTLET_ID SALES SALES_OUTLET_NA…
Get an essay WRITTEN FOR YOU, Plagiarism free, and by an EXPERT!
Read the brief case below. Using Oracle Application Express, complete the questions.
Atlas Bikes
Atlas Bikes has been selling their bikes since 1975 in the United States. They expanded to Australia and Germany in the year 2015. The bikes are sold via a trusted network of sales outlets, which are not owned by Atlas Bikes. As a measure to improve their footprint in the market, Atlas sales wants to open new stores which will be owned by them. To do this, the Senior Management wants to review the numbers and come up with their expansion strategy.
Use the ER Diagram below to understand the Data Model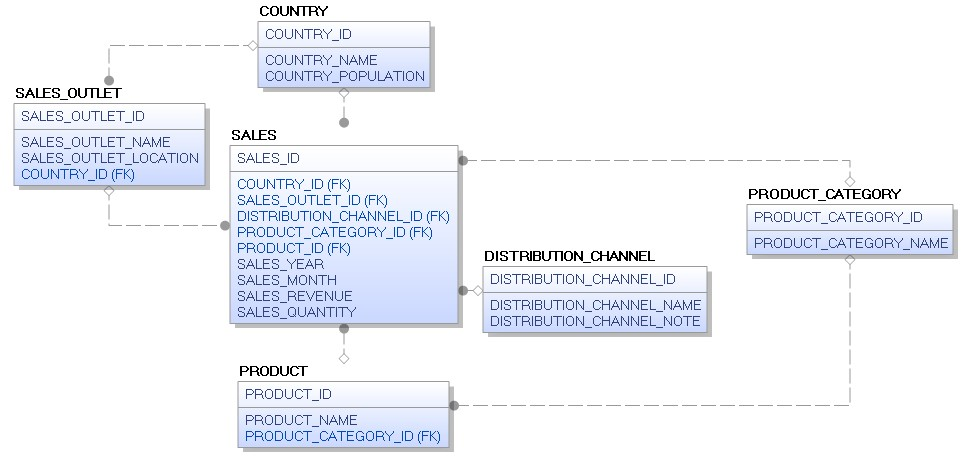 5.How many Distribution Channels are there? Name the column as "Number of DC".
6.What was the Total Revenue generated from Germany in the years 2015 and 2016? [Hint: The Country_ID of Germany is 1002. Use the SUM function. Also use to_char to change the format of the revenue]. Call the header "SALES_TOT_GERMANY" and display the result in US Dollars.
7.List the PRODUCT_NAME and PRODUCT_CATEGORY_NAME for each of the Products. Sort the list in the Descending order of the Product_Name[Hint: Use an INNER JOIN and table name aliases to write your query].
8.What was the Total Revenue for Atlas Bikes for the year 2015 and 2016. Format the revenue to show the unit of measure as US Dollars. [ Hint: Use GROUP BY expression to aggregate the revenue for 2015 and 2016. Use 'to_char' to change the format of the revenue]
9.For the year 2015, list the Quantity of Bikes sold by each Sales Outlet. The header for the Sales Outlet name would be "Outlet Name" and the Sales Quantity should be marked as "Quantity Sold". [Hint: Use INNER JOIN on Sales and Sales_Outlet tables. Also use the GROUP BY expression]
10.List the Sales Outlet Names and their Total Revenue for 2015 and 2016. Show the revenue in US Dollars. The header for the total revenue should be REVENUE.
BELOW IS THE SQL TO BE USED
DROP TABLE SALES;
DROP TABLE DISTRIBUTION_CATEGORY;
DROP TABLE SALES_OUTLET;
DROP TABLE COUNTRY;
DROP TABLE PRODUCT;
DROP TABLE PRODUCT_CATEGORY;
CREATE TABLE COUNTRY (
COUNTRY_ID NUMBER(7,0) PRIMARY KEY,
COUNTRY_NAME VARCHAR2(30) NOT NULL,
COUNTRY_POPULATION NUMBER(20) NOT NULL
);
CREATE TABLE SALES_OUTLET (
SALES_OUTLET_ID NUMBER(7,0) PRIMARY KEY,
SALES_OUTLET_NAME VARCHAR(30) NOT NULL,
SALES_OUTLET_LOCATION VARCHAR(30) NOT NULL,
COUNTRY_ID NUMBER(7,0) REFERENCES COUNTRY
);
CREATE TABLE PRODUCT_CATEGORY (
PRODUCT_CATEGORY_ID NUMBER(7,0) PRIMARY KEY,
PRODUCT_CATEGORY_NAME VARCHAR2(30) NOT NULL
);
CREATE TABLE PRODUCT (
PRODUCT_ID NUMBER(7,0) PRIMARY KEY,
PRODUCT_NAME VARCHAR2(30) NOT NULL,
PRODUCT_CATEGORY_ID NUMBER(7,0) REFERENCES PRODUCT_CATEGORY
);
CREATE TABLE DISTRIBUTION_CHANNEL (
DISTRIBUTION_CHANNEL_ID NUMBER(7,0) PRIMARY KEY,
DISTRIBUTION_CHANNEL_NAME VARCHAR2(30) NOT NULL,
DISTRIBUTION_CHANNEL_NOTE VARCHAR(30)
);
CREATE TABLE SALES (
SALES_ID NUMBER(7,0) PRIMARY KEY,
COUNTRY_ID NUMBER(7,0) REFERENCES COUNTRY NOT NULL,
SALES_OUTLET_ID NUMBER(7,0) REFERENCES SALES_OUTLET NOT NULL,
DISTRIBUTION_CHANNEL_ID NUMBER(7,0) REFERENCES DISTRIBUTION_CHANNEL NOT NULL,
PRODUCT_CATEGORY_ID NUMBER(7,0) REFERENCES PRODUCT_CATEGORY NOT NULL,
PRODUCT_ID NUMBER(7,0) REFERENCES PRODUCT NOT NULL,
SALES_YEAR NUMBER(4) NOT NULL,
SALES_MONTH VARCHAR(3) NOT NULL,
SALES_REVENUE NUMBER(20,0) NOT NULL,
SALES_QUANTITY NUMBER (20) NOT NULL
);
— COUNTRY ROWS
INSERT INTO COUNTRY VALUES ('1001', 'AUSTRALIA', 241298675);
INSERT INTO COUNTRY VALUES ('1002', 'GERMANY', 826738455);
INSERT INTO COUNTRY VALUES ('1003', 'UNITED STATES', 3241298675);
— SALES_OUTLET ROWS
INSERT INTO SALES_OUTLET VALUES (2001, 'BERLIN BIKES', 'BERLIN', 1002);
INSERT INTO SALES_OUTLET VALUES (2002, 'MUNICH BIKE STORE', 'MUNICH', 1002);
INSERT INTO SALES_OUTLET VALUES (2003, 'MUNICH BIKES', 'MUNICH', 1002);
INSERT INTO SALES_OUTLET VALUES (2004, 'BIKES SYDNEY', 'SYDNEY', 1001);
INSERT INTO SALES_OUTLET VALUES (2005, 'CAIRNS BIKE SHOP', 'CANBERRA', 1001);
INSERT INTO SALES_OUTLET VALUES (2006, 'PERTH BIKES', 'PERTH', 1001);
INSERT INTO SALES_OUTLET VALUES (2007, 'KANSAS CITY BIKESHOP', 'KANSAS CITY', 1003);
INSERT INTO SALES_OUTLET VALUES (2008, 'SAN DIEGO BIKESHOP', 'SAN DIEGO', 1003);
INSERT INTO SALES_OUTLET VALUES (2009, 'ST LOUIS BIKES', 'ST LOUIS', 1003);
— PRODUCT CATEGORY ROWS
INSERT INTO PRODUCT_CATEGORY VALUES (3001, 'CHILDREN BIKE (CB)');
INSERT INTO PRODUCT_CATEGORY VALUES (3002, 'MOUNTAIN BIKE (MB)');
INSERT INTO PRODUCT_CATEGORY VALUES (3003, 'RACING BIKE (RB)');
INSERT INTO PRODUCT_CATEGORY VALUES (3004, 'TOURING BIKE (TB)');
INSERT INTO PRODUCT_CATEGORY VALUES (3005, 'URBAN BIKE (UB)');
— PRODUCT ROWS
INSERT INTO PRODUCT VALUES (4001, 'FUN & FAST', 3001);
INSERT INTO PRODUCT VALUES (4002, 'KIDS SCREAMR', 3001);
INSERT INTO PRODUCT VALUES (4003, 'LIGHTNING STREAK', 3001);
INSERT INTO PRODUCT VALUES (4004, 'LITTLE DEAMON', 3001);
INSERT INTO PRODUCT VALUES (4005, 'MY FIRST BIKE', 3001);
INSERT INTO PRODUCT VALUES (4006, 'AC DS 1', 3002);
INSERT INTO PRODUCT VALUES (4007, 'FLAGSTAFF SPECIAL', 3002);
INSERT INTO PRODUCT VALUES (4008, 'TECHNICAL DISC', 3002);
INSERT INTO PRODUCT VALUES (4009, 'TECHNICAL DISC II', 3002);
INSERT INTO PRODUCT VALUES (4010, 'TOUGH ONE', 3002);
INSERT INTO PRODUCT VALUES (4011, 'LIGHTNING STREAK II', 3003);
INSERT INTO PRODUCT VALUES (4012, 'TITANIUM SPECIAL', 3003);
INSERT INTO PRODUCT VALUES (4013, 'TOUR SPEED LIGHT', 3003);
INSERT INTO PRODUCT VALUES (4014, 'TOUR SPEED ULTRA', 3003);
INSERT INTO PRODUCT VALUES (4015, 'XL 500 TITANIUM', 3003);
INSERT INTO PRODUCT VALUES (4016, 'DESERT SPECIAL', 3004);
INSERT INTO PRODUCT VALUES (4017, 'EASY DISTANCE II', 3004);
INSERT INTO PRODUCT VALUES (4018, 'LONG ROAD HOME', 3004);
INSERT INTO PRODUCT VALUES (4019, 'SOLERO MEN', 3004);
INSERT INTO PRODUCT VALUES (4020, 'SONORA SPECIAL', 3004);
INSERT INTO PRODUCT VALUES (4021, 'FAST ONE', 3005);
INSERT INTO PRODUCT VALUES (4022, 'FRISCO SPECIAL', 3005);
INSERT INTO PRODUCT VALUES (4023, 'MESSAGE MAX', 3005);
INSERT INTO PRODUCT VALUES (4024, 'MESSAGE MAX II', 3005);
INSERT INTO PRODUCT VALUES (4025, 'SYDNEY SPECIAL', 3005);
— DISTRIBUTION CHANNEL ROWS
INSERT INTO DISTRIBUTION_CHANNEL VALUES (5001, 'INTERNET', 'NO MINIMUM QTY REQ');
INSERT INTO DISTRIBUTION_CHANNEL VALUES (5002, 'WHOLESALE', 'MINIMUM QTY IS 5′);
— SALES ROWS
INSERT INTO SALES VALUES (100001,1003,2007,5002,3002,4007,2015,'MAY',16783.42,34);
INSERT INTO SALES VALUES (100002,1003,2007,5002,3002,4010,2015,'JUN',38423.74,34);
INSERT INTO SALES VALUES (100003,1003,2008,5001,3001,4003,2015,'SEP',14221.86,34);
INSERT INTO SALES VALUES (100004,1003,2008,5001,3003,4011,2015,'SEP',86606.5,34);
INSERT INTO SALES VALUES (100005,1003,2008,5002,3005,4021,2015,'AUG',33614.78,34);
INSERT INTO SALES VALUES (100006,1003,2008,5002,3001,4003,2015,'SEP',13417.08,34);
INSERT INTO SALES VALUES (100007,1003,2008,5002,3003,4012,2015,'SEP',89879.34,34);
INSERT INTO SALES VALUES (100008,1003,2008,5002,3004,4018,2015,'SEP',33614.78,34);
INSERT INTO SALES VALUES (100009,1003,2008,5002,3004,4017,2015,'AUG',38423.74,34);
INSERT INTO SALES VALUES (100010,1001,2005,5001,3005,4022,2015,'SEP',12906.07,35);
INSERT INTO SALES VALUES (100011,1001,2005,5001,3003,4012,2015,'SEP',100927.53,35);
INSERT INTO SALES VALUES (100012,1001,2005,5001,3004,4018,2015,'AUG',37746.44,35);
INSERT INTO SALES VALUES (100013,1001,2005,5001,3004,4016,2015,'AUG',26946.32,35);
INSERT INTO SALES VALUES (100014,1001,2005,5002,3001,4004,2015,'AUG',12175.75,35);
INSERT INTO SALES VALUES (100015,1001,2005,5002,3002,4008,2015,'JUL',101837.25,35);
INSERT INTO SALES VALUES (100016,1001,2005,5002,3003,4012,2015,'JUL',95214.45,35);
INSERT INTO SALES VALUES (100017,1001,2006,5001,3002,4008,2015,'APR',107947.65,35);
INSERT INTO SALES VALUES (100018,1001,2006,5001,3003,4015,2015,'AUG',53946.76,35);
INSERT INTO SALES VALUES (100019,1001,2006,5001,3004,4020,2015,'MAY',16146.19,35);
INSERT INTO SALES VALUES (100020,1001,2006,5002,3002,4010,2015,'MAY',40704.29,35);
INSERT INTO SALES VALUES (100021,1001,2006,5002,3003,4011,2015,'MAY',86554.01,35);
INSERT INTO SALES VALUES (100022,1001,2006,5002,3004,4018,2015,'JUL',35609.88,35);
INSERT INTO SALES VALUES (100023,1001,2006,5002,3004,4016,2015,'AUG',25421.05,35);
INSERT INTO SALES VALUES (100024,1001,2004,5001,3001,4005,2015,'JUL',3185.99,35);
INSERT INTO SALES VALUES (100025,1001,2004,5001,3001,4003,2015,'APR',15066.15,35);
INSERT INTO SALES VALUES (100026,1001,2004,5001,3002,4006,2015,'JUL',151148.14,35);
INSERT INTO SALES VALUES (100027,1001,2004,5001,3003,4012,2015,'APR',100927.53,35);
INSERT INTO SALES VALUES (100028,1001,2004,5001,3003,4013,2015,'JUL',55566.68,35);
INSERT INTO SALES VALUES (100029,1001,2004,5001,3004,4016,2015,'JUL',26946.32,35);
INSERT INTO SALES VALUES (100030,1001,2004,5002,3005,4023,2015,'APR',54968.7,35);
INSERT INTO SALES VALUES (100031,1001,2004,5002,3004,4019,2015,'JUL',20326.64,35);
INSERT INTO SALES VALUES (100032,1002,2001,5001,3005,4021,2015,'APR',35268.74,35);
INSERT INTO SALES VALUES (100033,1002,2001,5001,3001,4001,2015,'MAY',8476.61,35);
INSERT INTO SALES VALUES (100034,1002,2001,5001,3002,4008,2015,'MAY',100861.54,35);
INSERT INTO SALES VALUES (100035,1002,2001,5001,3004,4020,2015,'MAY',15086.34,35);
INSERT INTO SALES VALUES (100036,1002,2001,5002,3001,4001,2015,'JUL',7996.8,35);
INSERT INTO SALES VALUES (100037,1002,2001,5002,3001,4005,2015,'MAY',2808.4,35);
INSERT INTO SALES VALUES (100038,1002,2001,5002,3002,4010,2015,'JUL',38032.4,35);
INSERT INTO SALES VALUES (100039,1002,2001,5002,3002,4008,2015,'AUG',95152.4,35);
INSERT INTO SALES VALUES (100040,1002,2001,5002,3003,4014,2015,'MAY',25656.4,35);
INSERT INTO SALES VALUES (100041,1002,2001,5002,3003,4011,2015,'JUL',80872.4,35);
INSERT INTO SALES VALUES (100042,1002,2003,5001,3005,4023,2015,'APR',54442.02,35);
INSERT INTO SALES VALUES (100043,1002,2003,5001,3001,4005,2015,'APR',2976.9,35);
INSERT INTO SALES VALUES (100044,1002,2003,5002,3005,4021,2015,'JUN',33272.4,35);
INSERT INTO SALES VALUES (100045,1002,2003,5002,3005,4023,2015,'APR',51360.4,35);
INSERT INTO SALES VALUES (100046,1002,2003,5002,3002,4010,2015,'MAY',38032.4,35);
INSERT INTO SALES VALUES (100047,1002,2003,5002,3002,4008,2015,'JUN',95152.4,35);
INSERT INTO SALES VALUES (100048,1002,2003,5002,3003,4011,2015,'MAY',80872.4,35);
INSERT INTO SALES VALUES (100049,1002,2003,5002,3004,4020,2015,'JUN',14232.4,35);
INSERT INTO SALES VALUES (100050,1002,2002,5001,3001,4001,2015,'AUG',8476.61,35);
INSERT INTO SALES VALUES (100051,1002,2002,5001,3001,4004,2015,'APR',12058.98,35);
INSERT INTO SALES VALUES (100052,1002,2002,5001,3002,4006,2015,'APR',141226.34,35);
INSERT INTO SALES VALUES (100053,1002,2002,5002,3005,4023,2015,'APR',51360.4,35);
INSERT INTO SALES VALUES (100054,1002,2002,5002,3005,4022,2015,'JUL',11376.4,35);
INSERT INTO SALES VALUES (100055,1002,2002,5002,3003,4013,2015,'JUL',48980.4,35);
INSERT INTO SALES VALUES (100056,1003,2009,5001,3003,4012,2015,'APR',98074.2,35);
INSERT INTO SALES VALUES (100057,1003,2009,5002,3005,4024,2015,'JUN',44504.25,35);
INSERT INTO SALES VALUES (100058,1003,2009,5002,3003,4011,2015,'MAY',84107.45,35);
INSERT INTO SALES VALUES (100059,1003,2007,5001,3005,4022,2015,'JUN',12541.2,35);
INSERT INTO SALES VALUES (100060,1003,2007,5002,3005,4024,2015,'MAY',44504.25,35);
INSERT INTO SALES VALUES (100061,1003,2007,5002,3001,4005,2015,'MAY',2920.75,35);
INSERT INTO SALES VALUES (100062,1003,2007,5002,3003,4011,2015,'MAY',84107.45,35);
INSERT INTO SALES VALUES (100063,1003,2008,5001,3002,4010,2015,'AUG',41926.85,35);
INSERT INTO SALES VALUES (100064,1003,2008,5001,3003,4015,2015,'APR',52421.6,35);
INSERT INTO SALES VALUES (100065,1003,2008,5001,3003,4015,2015,'AUG',52421.6,35);
INSERT INTO SALES VALUES (100066,1003,2008,5002,3005,4022,2015,'SEP',11831.4,35);
INSERT INTO SALES VALUES (100067,1003,2008,5002,3001,4001,2015,'APR',8316.7,35);
INSERT INTO SALES VALUES (100068,1003,2008,5002,3001,4001,2015,'AUG',8316.7,35);
INSERT INTO SALES VALUES (100069,1003,2008,5002,3001,4001,2015,'JUL',8316.7,35);
INSERT INTO SALES VALUES (100070,1003,2008,5002,3001,4002,2015,'SEP',3663.45,35);
INSERT INTO SALES VALUES (100071,1003,2008,5002,3002,4009,2015,'JUL',32128.25,35);
INSERT INTO SALES VALUES (100072,1003,2008,5002,3002,4008,2015,'SEP',98958.65,35);
INSERT INTO SALES VALUES (100073,1001,2005,5002,3001,4005,2015,'SEP',3091.63,36);
INSERT INTO SALES VALUES (100074,1001,2005,5002,3001,4002,2015,'SEP',3877.51,36);
INSERT INTO SALES VALUES (100075,1001,2005,5002,3002,4010,2015,'AUG',41867.27,36);
INSERT INTO SALES VALUES (100076,1001,2006,5001,3002,4007,2015,'APR',19384.62,36);
INSERT INTO SALES VALUES (100077,1001,2006,5001,3003,4014,2015,'APR',29938.01,36);
INSERT INTO SALES VALUES (100078,1001,2006,5001,3004,4018,2015,'JUL',38824.91,36);
INSERT INTO SALES VALUES (100079,1001,2006,5001,3004,4016,2015,'JUL',27716.21,36);
INSERT INTO SALES VALUES (100080,1001,2006,5001,3004,4017,2015,'AUG',44379.4,36);
INSERT INTO SALES VALUES (100081,1001,2006,5002,3004,4019,2015,'AUG',20907.4,36);
INSERT INTO SALES VALUES (100082,1001,2006,5002,3004,4020,2015,'JUL',15667.43,36);
INSERT INTO SALES VALUES (100083,1001,2004,5001,3005,4024,2015,'JUL',49933.6,36);
INSERT INTO SALES VALUES (100084,1001,2004,5001,3001,4003,2015,'JUL',15496.62,36);
INSERT INTO SALES VALUES (100085,1001,2004,5001,3003,4014,2015,'JUL',29938.01,36);
INSERT INTO SALES VALUES (100086,1001,2004,5001,3003,4013,2015,'APR',57154.3,36);
INSERT INTO SALES VALUES (100087,1001,2004,5002,3001,4002,2015,'APR',3877.51,36);
INSERT INTO SALES VALUES (100088,1001,2004,5002,3002,4007,2015,'APR',18287.42,36);
INSERT INTO SALES VALUES (100089,1001,2004,5002,3004,4018,2015,'APR',36627.3,36);
INSERT INTO SALES VALUES (100090,1001,2004,5002,3004,4017,2015,'APR',41867.27,36);
INSERT INTO SALES VALUES (100091,1002,2001,5001,3005,4025,2015,'MAY',20707.14,36);
INSERT INTO SALES VALUES (100092,1002,2001,5001,3002,4009,2015,'APR',33681.54,36);
INSERT INTO SALES VALUES (100093,1002,2001,5001,3003,4011,2015,'JUL',88174.02,36);
INSERT INTO SALES VALUES (100094,1002,2001,5001,3004,4018,2015,'APR',36276.42,36);
INSERT INTO SALES VALUES (100095,1002,2001,5001,3004,4018,2015,'MAY',36276.42,36);
INSERT INTO SALES VALUES (100096,1002,2001,5002,3005,4024,2015,'JUL',44015.04,36);
INSERT INTO SALES VALUES (100097,1002,2001,5002,3002,4008,2015,'JUL',97871.04,36);
INSERT INTO SALES VALUES (100098,1002,2001,5002,3004,4020,2015,'JUL',14639.04,36);
INSERT INTO SALES VALUES (100099,1002,2003,5001,3004,4019,2015,'MAY',20707.14,36);
INSERT INTO SALES VALUES (100100,1002,2003,5001,3004,4020,2015,'MAY',15517.38,36);
INSERT INTO SALES VALUES (100101,1002,2002,5001,3005,4023,2015,'SEP',55997.51,36);
INSERT INTO SALES VALUES (100102,1002,2002,5001,3001,4001,2015,'APR',8718.8,36);
INSERT INTO SALES VALUES (100103,1002,2002,5001,3002,4006,2015,'AUG',145261.38,36);
INSERT INTO SALES VALUES (100104,1002,2002,5001,3004,4019,2015,'JUL',20707.14,36);
INSERT INTO SALES VALUES (100105,1002,2002,5002,3005,4022,2015,'SEP',11701.44,36);
INSERT INTO SALES VALUES (100106,1002,2002,5002,3003,4014,2015,'JUL',26389.44,36);
INSERT INTO SALES VALUES (100107,1002,2002,5002,3003,4015,2015,'APR',48911.04,36);
INSERT INTO SALES VALUES (100108,1002,2002,5002,3004,4019,2015,'JUL',19535.04,36);
INSERT INTO SALES VALUES (100109,1003,2009,5001,3005,4023,2015,'MAY',58237.56,36);
INSERT INTO SALES VALUES (100110,1003,2009,5001,3002,4006,2015,'JUN',151071.84,36);
INSERT INTO SALES VALUES (100111,1003,2009,5001,3002,4008,2015,'MAY',107893.08,36);
INSERT INTO SALES VALUES (100112,1003,2009,5001,3003,4014,2015,'APR',29091.6,36);
INSERT INTO SALES VALUES (100113,1003,2009,5001,3004,4016,2015,'APR',26932.68,36);
INSERT INTO SALES VALUES (100114,1003,2009,5002,3005,4021,2015,'JUN',35592.12,36);
INSERT INTO SALES VALUES (100115,1003,2009,5002,3005,4022,2015,'MAY',12169.44,36);
INSERT INTO SALES VALUES (100116,1003,2009,5002,3001,4005,2015,'JUN',3004.2,36);
INSERT INTO SALES VALUES (100117,1003,2007,5001,3004,4017,2015,'MAY',43124.76,36);
INSERT INTO SALES VALUES (100118,1003,2007,5002,3001,4003,2015,'MAY',14206.32,36);
INSERT INTO SALES VALUES (100119,1003,2007,5002,3004,4018,2015,'JUN',35592.12,36);
INSERT INTO SALES VALUES (100120,1003,2007,5002,3004,4018,2015,'MAY',35592.12,36);
INSERT INTO SALES VALUES (100121,1003,2008,5001,3002,4007,2015,'AUG',18836.64,36);
INSERT INTO SALES VALUES (100122,1003,2008,5002,3005,4025,2015,'JUL',20316.6,36);
INSERT INTO SALES VALUES (100123,1003,2008,5002,3001,4002,2015,'AUG',3768.12,36);
INSERT INTO SALES VALUES (100613,1001,2006,5002,3003,4013,2016,'APR',70394.58,47);
INSERT INTO SALES VALUES (100614,1001,2006,5002,3004,4020,2016,'MAY',20454.7,47);
INSERT INTO SALES VALUES (100615,1001,2004,5001,3003,4011,2016,'APR',123203.55,47);
INSERT INTO SALES VALUES (100616,1002,2001,5001,3001,4002,2016,'JUN',5013.88,47);
INSERT INTO SALES VALUES (100617,1002,2001,5001,3002,4009,2016,'JUN',43973.12,47);
INSERT INTO SALES VALUES (100618,1002,2001,5001,3003,4014,2016,'APR',36520.05,47);
INSERT INTO SALES VALUES (100619,1002,2001,5001,3004,4016,2016,'JUN',33809.84,47);
INSERT INTO SALES VALUES (100620,1002,2001,5002,3005,4023,2016,'APR',68969.68,47);
INSERT INTO SALES VALUES (100621,1002,2001,5002,3002,4008,2016,'MAY',127776.08,47);
INSERT INTO SALES VALUES (100622,1002,2001,5002,3004,4016,2016,'JUN',31896.08,47);
INSERT INTO SALES VALUES (100623,1002,2003,5001,3003,4014,2016,'JUN',36520.05,47);
INSERT INTO SALES VALUES (100624,1002,2003,5002,3001,4004,2016,'JUN',15276.88,47);
INSERT INTO SALES VALUES (100625,1002,2003,5002,3003,4015,2016,'JUN',63856.08,47);
INSERT INTO SALES VALUES (100626,1002,2003,5002,3003,4012,2016,'MAY',119466.48,47);
INSERT INTO SALES VALUES (100627,1002,2003,5002,3003,4013,2016,'MAY',65773.68,47);
INSERT INTO SALES VALUES (100628,1002,2002,5001,3004,4019,2016,'APR',27034.32,47);
INSERT INTO SALES VALUES (100629,1002,2002,5001,3004,4019,2016,'JUN',27034.32,47);
INSERT INTO SALES VALUES (100630,1002,2002,5002,3003,4011,2016,'JUL',108600.08,47);
INSERT INTO SALES VALUES (100631,1002,2002,5002,3003,4015,2016,'MAY',63856.08,47);
INSERT INTO SALES VALUES (100632,1003,2009,5001,3004,4018,2016,'JUN',49255.53,47);
INSERT INTO SALES VALUES (100633,1003,2009,5002,3004,4017,2016,'JUN',53115.17,47);
INSERT INTO SALES VALUES (100634,1003,2007,5001,3001,4003,2016,'JUN',19659.63,47);
INSERT INTO SALES VALUES (100635,1003,2008,5001,3005,4023,2016,'JUN',76032.37,47);
INSERT INTO SALES VALUES (100636,1003,2008,5001,3001,4002,2016,'APR',5214.65,47);
INSERT INTO SALES VALUES (100637,1003,2008,5002,3003,4012,2016,'JUL',124244.97,47);
INSERT INTO SALES VALUES (100638,1003,2008,5002,3004,4018,2016,'JUL',46467.49,47);
INSERT INTO SALES VALUES (100639,1001,2005,5002,3001,4003,2016,'JUL',19492.66,48);
INSERT INTO SALES VALUES (100640,1001,2005,5002,3002,4008,2016,'APR',139662.51,48);
INSERT INTO SALES VALUES (100641,1001,2005,5002,3003,4014,2016,'APR',37658.04,48);
INSERT INTO SALES VALUES (100642,1001,2006,5001,3005,4025,2016,'APR',29549.34,48);
INSERT INTO SALES VALUES (100643,1001,2006,5002,3005,4021,2016,'JUN',48836.4,48);
INSERT INTO SALES VALUES (100644,1001,2006,5002,3005,4022,2016,'MAY',16698.17,48);
INSERT INTO SALES VALUES (100645,1001,2006,5002,3002,4007,2016,'JUN',24383.22,48);
INSERT INTO SALES VALUES (100646,1001,2004,5001,3005,4021,2016,'MAY',51766.54,48);
INSERT INTO SALES VALUES (100647,1001,2004,5001,3005,4022,2016,'MAY',17699.76,48);
INSERT INTO SALES VALUES (100648,1001,2004,5001,3002,4010,2016,'MAY',59172.53,48);
INSERT INTO SALES VALUES (100649,1001,2004,5002,3004,4016,2016,'JUN',34863.16,48);
INSERT INTO SALES VALUES (100650,1002,2001,5001,3001,4004,2016,'JUN',16538.04,48);
INSERT INTO SALES VALUES (100651,1002,2001,5001,3002,4008,2016,'APR',138324.4,48);
INSERT INTO SALES VALUES (100652,1002,2001,5002,3002,4010,2016,'APR',52158.72,48);
INSERT INTO SALES VALUES (100653,1002,2001,5002,3004,4017,2016,'APR',52158.72,48);
INSERT INTO SALES VALUES (100654,1002,2003,5001,3005,4025,2016,'JUN',27609.52,48);
INSERT INTO SALES VALUES (100655,1002,2003,5001,3004,4019,2016,'JUN',27609.52,48);
INSERT INTO SALES VALUES (100656,1002,2002,5001,3003,4013,2016,'JUL',71203.51,48);
INSERT INTO SALES VALUES (100657,1002,2002,5001,3004,4020,2016,'JUN',20689.84,48);
INSERT INTO SALES VALUES (100658,1002,2002,5001,3004,4017,2016,'APR',55288.24,48);
INSERT INTO SALES VALUES (100659,1002,2002,5002,3005,4022,2016,'MAY',15601.92,48);
INSERT INTO SALES VALUES (100660,1003,2009,5001,3001,4004,2016,'MAY',17199.36,48);
INSERT INTO SALES VALUES (100661,1003,2009,5001,3002,4006,2016,'MAY',201529.12,48);
INSERT INTO SALES VALUES (100662,1003,2009,5002,3002,4010,2016,'MAY',54245.28,48);
INSERT INTO SALES VALUES (100663,1003,2008,5001,3005,4021,2016,'APR',50303.52,48);
INSERT INTO SALES VALUES (100664,1003,2008,5001,3001,4003,2016,'MAY',201177.92,48);
INSERT INTO SALES VALUES (100665,1003,2008,5002,3002,4008,2016,'JUL',135714.72,48);
INSERT INTO SALES VALUES (100666,1001,2005,5002,3005,4025,2016,'JUL',28457.3,49);
INSERT INTO SALES VALUES (100667,1001,2005,5002,3001,4001,2016,'JUL',11982.19,49);
INSERT INTO SALES VALUES (100668,1001,2005,5002,3002,4006,2016,'APR',199629.57,49);
INSERT INTO SALES VALUES (100669,1001,2006,5001,3005,4023,2016,'APR',81573.69,49);
INSERT INTO SALES VALUES (100670,1001,2006,5001,3001,4005,2016,'MAY',4460.39,49);
INSERT INTO SALES VALUES (100671,1001,2006,5001,3001,4003,2016,'APR',21092.62,49);
INSERT INTO SALES VALUES (100672,1001,2006,5001,3003,4011,2016,'JUN',128446.26,49);
INSERT INTO SALES VALUES (100673,1001,2004,5001,3005,4022,2016,'JUN',18068.5,49);
INSERT INTO SALES VALUES (100674,1002,2001,5001,3002,4006,2016,'APR',197716.88,49);
INSERT INTO SALES VALUES (100675,1002,2001,5002,3003,4012,2016,'JUN',124550.16,49);
INSERT INTO SALES VALUES (100676,1002,2003,5001,3001,4001,2016,'JUN',11867.25,49);
INSERT INTO SALES VALUES (100677,1002,2003,5002,3005,4024,2016,'JUN',59909.36,49);
INSERT INTO SALES VALUES (100678,1002,2002,5001,3002,4006,2016,'MAY',197716.88,49);
INSERT INTO SALES VALUES (100679,1002,2002,5001,3003,4012,2016,'MAY',132023.17,49);
INSERT INTO SALES VALUES (100680,1003,2009,5001,3002,4010,2016,'JUN',58697.59,49);
INSERT INTO SALES VALUES (100681,1003,2007,5002,3001,4005,2016,'JUN',4089.05,49);
INSERT INTO SALES VALUES (100682,1003,2007,5002,3003,4015,2016,'JUN',69236.51,49);
INSERT INTO SALES VALUES (100683,1003,2007,5002,3004,4017,2016,'JUN',55375.39,49);
INSERT INTO SALES VALUES (100684,1003,2008,5001,3005,4024,2016,'JUN',66044.16,49);
INSERT INTO SALES VALUES (100685,1003,2008,5002,3005,4025,2016,'JUN',27653.15,49);
INSERT INTO SALES VALUES (100686,1003,2008,5002,3004,4019,2016,'MAY',27653.15,49);
INSERT INTO SALES VALUES (100687,1003,2008,5002,3004,4017,2016,'MAY',55375.39,49);
INSERT INTO SALES VALUES (100688,1001,2005,5001,3001,4004,2016,'APR',18437.25,50);
INSERT INTO SALES VALUES (100689,1001,2005,5001,3002,4009,2016,'APR',50066.4,50);
INSERT INTO SALES VALUES (100690,1001,2006,5001,3005,4024,2016,'MAY',69352.23,50);
INSERT INTO SALES VALUES (100691,1001,2006,5001,3001,4003,2016,'MAY',21523.08,50);
INSERT INTO SALES VALUES (100692,1001,2006,5001,3003,4012,2016,'JUN',144182.19,50);
INSERT INTO SALES VALUES (100693,1001,2006,5002,3005,4025,2016,'JUN',29038.06,50);
INSERT INTO SALES VALUES (100694,1001,2004,5001,3002,4006,2016,'MAY',215925.91,50);
INSERT INTO SALES VALUES (100695,1001,2004,5002,3005,4021,2016,'MAY',50871.26,50);
INSERT INTO SALES VALUES (100696,1001,2004,5002,3004,4020,2016,'JUN',21760.32,50);
INSERT INTO SALES VALUES (100697,1002,2001,5001,3005,4025,2016,'JUN',28759.92,50);
INSERT INTO SALES VALUES (100698,1002,2001,5002,3001,4004,2016,'MAY',16252,50);
INSERT INTO SALES VALUES (100699,1002,2001,5002,3002,4007,2016,'JUN',23732,50);
INSERT INTO SALES VALUES (100700,1002,2001,5002,3003,4014,2016,'APR',36652,50);
INSERT INTO SALES VALUES (100701,1002,2001,5002,3003,4012,2016,'MAY',127092,50);
INSERT INTO SALES VALUES (100702,1002,2003,5001,3005,4022,2016,'JUN',17227.12,50);
INSERT INTO SALES VALUES (100703,1002,2003,5001,3001,4001,2016,'MAY',12109.44,50);
INSERT INTO SALES VALUES (100704,1002,2003,5001,3001,4002,2016,'MAY',5333.92,50);
INSERT INTO SALES VALUES (100705,1002,2003,5001,3002,4010,2016,'MAY',57591.92,50);
INSERT INTO SALES VALUES (100706,1002,2003,5001,3003,4012,2016,'MAY',134717.52,50);
INSERT INTO SALES VALUES (100707,1002,2003,5002,3001,4002,2016,'MAY',5032,50);
COUNTRY COUNTRY ID COUNTRY_NAME COUNTRY POPULATION SALES OUTLET SALES_OUTLET_ID SALES SALES_OUTLET_NAME SALES OUTLET LOCATION COUNTRY_ID (FK) SALES_ID COUNTRY_ID (FK) SALES_OUTLET_ID (FK) DISTRIBUTION_CHANNEL_ID (FK) PRODUCT_CATEGORY_ID (FK) PRODUCT_ID (FK) SALES_YEAR SALES_MONTH SALES_REVENUE SALES QUANTITY PRODUCT CATEGORY PRODUCT CATEGORY ID ˊ· PRODUCT CATEGORY NAME DISTRIBUTION CHANNEL DISTRIBUTION_CHANNEL_ID DISTRIBUTION_CHANNEL_NAME DISTRIBUTION CHANNEL NOTE PRODUCT PRODUCT_ID PRODUCT_NAME PRODUCT_CATEGORY_ID (FK)