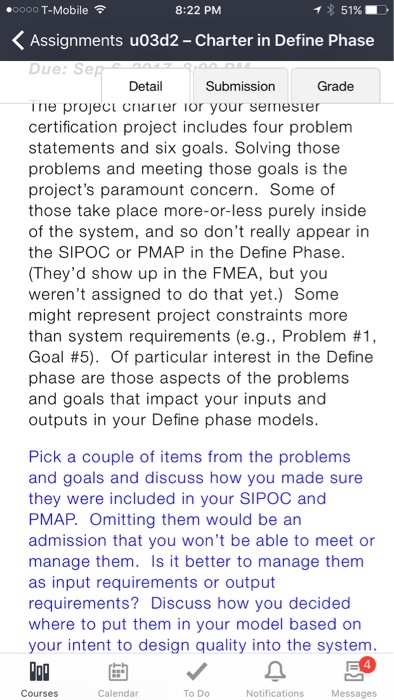 A Quality
Don't use plagiarized sources. Get Your Custom Essay on
(Solved Homework): A Quality Engineered System Design for a Professional Certification Program Problem Statements…
Get an essay WRITTEN FOR YOU, Plagiarism free, and by an EXPERT!
Engineered System Design for a Professional Certification Program
Problem Statements:
(Why we are doing this)
1.
Our strategic management team has challenged us to launch a new p
rofessional certification program
over the
next two years
.
2.
Othe
r programs in related industrie
s
are seeing
fairly
low pass rates
on their examinations, and fairly
low
retention
in their recertification rates.
3.
Some professional certification
programs in rel
ated industries
lack strong acceptance and credibility
among hiring managers among employers who would look for our certifications.
4.
Management wants our certification brand to be
well accepted
, with
minimum process capability
at least
equivalent
to the cer
tification program at the American Society for Quality.
Goals:
(What we hope to accomplish)
1.
Provide domain
–
specific professional certifications to candidates across our professions.
2.
Ensure qualified
individuals
successfully
become candidates
,
obtain cert
ification
, and are
continually
retained
by the new program.
3.
Ensure that certified professionals find it easier to find jobs, and earn higher compensation levels
,
than
comparable non
–
certified
individuals
.
4.
Keep the costs and fees, as well as other burdens,
placed on candidates and employers comparable to
competitive and related alternative certification programs.
5.
Align
the program design and implementation
with all 21 standards in the NCCA (2007) accreditation
model.
6.
Support a global roll
–
out, including full
cultural and regulatory diversity.
The project charter for your semester certification project includes four problem statements and six goals. Solving those problems and meeting those goals is the project's paramount concern. Some of those take place more-or-less purely inside of the system, and so don't really appear in the SIPOC or PMAP in the Define Phase. (They'd show up in the FMEA, but you weren't assigned to do that yet.) Some might represent project constraints more than system requirements (e.g., Problem #1, Goal #5). Of particular interest in the Define phase are those aspects of the problems and goals that impact your inputs and outputs in your Define phase models. Pick a couple of items from the problems and goals and discuss how you made sure they were included in your SIPOC and PMAP. Omitting them would be an admission that you won't be able to meet or manage them. Is it better to manage them as input requirements or output requirements? Discuss how you decided where to put them in your model based on your intent to design quality into the system.